Cloud Management Services
Leverage Burwood Group's best-in-breed hybrid cloud management and orchestration capabilities to strengthen your digital transformation efforts. 
Implementing a cloud strategy can be a daunting task. Applying automation and orchestration to your cloud deployment will help reduce IT costs, ramp up productivity, and free up personnel to focus on more strategic pursuits. However, choosing the right tools takes time.
Burwood Group's Cloud Management Platform saves time and sidesteps the need to make capital investments in automation and orchestration tools. We provide your team with the ability to leverage automation and DevOps practices across your entire private and public cloud environment. With our cloud management platform and integrated toolsets we provide a solution to plan and optimize your public, private, or hybrid workload deployment. This includes setup, discovery of virtual infrastructure, monitoring, ongoing configuration, and maintenance (including upgrades).
Burwood also performs customized training for your environment, eliminating the learning curve so that your team can immediately benefit from the power of DevOps and orchestration. We also provide optimized configuration, including custom infrastructure blueprints, app templates, compliance policies, reports and more.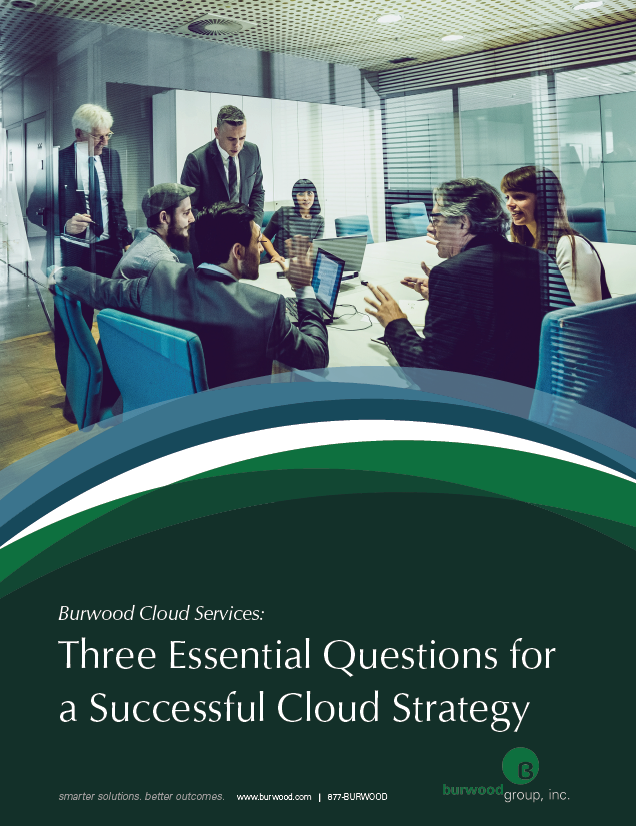 Inform your cloud strategy by asking critical questions upfront.
Burwood's Cloud Management Platform
Introduction to Containers & Kubernetes
Jumpstart your container education with Burwood Group in our two-day workshop including lab, demos, and use cases.
Burwood provides customers with hybrid cloud management and orchestration capabilities that include:
"Cloudify" Existing Infrastructure:
Discover, map, and analyze current private and public cloud infrastructure

Identify and auto-scale resources to usage demands

Full support for private cloud (VMware, KVM, VxRail, Openstack, and AzureStack)
Automate IT Operations:
An internal case study: modernizing Burwood's infrastructure with containers, Kubernetes and Google Cloud
Move to Infrastructure as Code and automate provisioning of infrastructure from blueprints and integrate infrastructure provisioning into your CI / CD pipeline

Automatically deploy Cloud Monitoring and Event Management

Integrate back into ServiceNow for a full IT Service Management solution
Transform & Manage Apps Across Clouds:
Natively provision and manage Containers and Kubernetes

Discover, map, and monitor performance of your containerized applications

Full support for AWS, Azure, and Google Cloud
Intelligent Workload Placement:
Use self-healing to resolve issues before they impact end users employ objective evidence from comprehensive analytics & reporting to implement permanent fix actions
Key Partnerships
Burwood Group leverages best-of-breed cloud and system management tools to help your IT team advance from labor-intensive, custom-built environments to rules-based, automated deployment and management processes. We pair existing IT investments with automation solutions and cloud management platforms to create cloud-ready, agile infrastructure. With these carefully selected and deployed tools, we're equipped to optimize performance, manage costs, and reduce downtime across your public, private, or hybrid cloud environments.
Where automation makes a single app work intelligently, orchestration arranges apps in harmony, giving them specific tasks and timing direction, and enabling them to scale up or down in an orderly fashion. Our toolset automates and manages functions like deployment, provisioning, configuration, monitoring, and reporting. Together with an operations layer for storage resource management, our tools are integrated into streamlined, user-friendly service portal to keep you informed of your cloud operations.
With over 15,000 devices under management, Burwood Group's expertise with monitoring, managing, maintaining, and improving the reliability of your virtual infrastructure, allows your infrastructure team to focus on more pressing strategic growth initiatives.
We can help realize the full potential of your cloud services, whether public or private, through:
Cost optimization

Automated provisioning with integrated security analysis

Software container provisioning and management

Integrated monitoring and alerts

Cloud migration

Software-defined wide area networking (SD-WAN)

And much more